Pastor Riggs
Click Here to Email the Pastor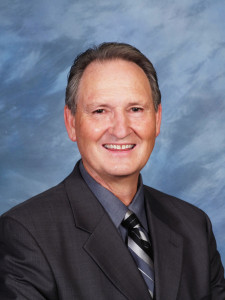 Glenn Riggs trusted in Christ on August 4, 1968 in St. Louis, Mo. He accepted the call to preach on June 29, 1969. He was born on the farm in Marmaduke, Arkansas and married his high school sweetheart Carolyn Booth - the daughter of Van C. Booth, a Baptist preacher. Mrs. Riggs has been around the ministry her entire life, born a Pastor's daughter, married to a Pastor, and mother to three sons who are all Pastors. She has served our Lord faithfully and raised 5 children who are all in full time ministry.
They also have a son in law who is a preacher and seventeen grandchildren, some who have already committed their life to the Lord. Dr. Riggs has pastored for over 40 years and is known for his church building and evangelistic meetings. An early believer in the bus ministry, he has been instrumental in encouraging many others through his preaching and teaching to begin bus ministries in their churches. He is often sought after to preach revivals, conferences, and church growth seminars. In 1989, he and his family moved from Hawaii to Orlando, Fl., to begin Starlight Baptist Church, where they have seen phenomenal growth.
To learn more about Pastor's Family:
Sam Riggs
Sam Riggs was born, with twin brother Daniel, to Pastor and Mrs. Riggs in April of 1972. He spent his childhood in the home of a very busy and prominent pastor in the towns of Hot Springs, Arkansas; Kailua, Hawaii; and Winter Springs, Florida as his parents worked for the Lord in these towns.
Sam trusted Christ at the age of 12 and then surrendered to preach at the age of 19, under the ministry of his father, Dr. Glenn Riggs. Bro. Sam served as Assistant Pastor for 5 years before going off to Pastor in 1999. Sam attended Hyles Anderson College, Landmark Baptist College, and earned his BA in Pastoral Theology through Patriot Bible University. Brother Sam has Pastored churches from Ocala, Florida to Rossville, Georgia from 1999 to 2015. In June of 2015, the Lord led Sam and his family back to Starlight to serve here as his Dad's Associate Pastor.
Sam has been married to Susan Glass since July of 1997, Susan spent her childhood in the West Indies, growing up in a Missionary Home. They have 3 children, Allison, Edison, and John Riley.
Larry Stephen
Assistant Pastor and Children's Ministry Director
Click Here to Email Larry Stephen
Larry and Sylvia Greenway met in Bible college, they married in 1981. Larry has four children, ten grandchildren, and one great grandchild. He was raised on a farm in Northeast Arkansas. At the age of six, his mother led him to Christ.
Immediately after graduating high school, he attended a conventional Bible college. Not happy with the liberal teachings, he left after his freshman year. He joined an old fashioned, Bible-Believing, independent, Baptist church in Goshen, Indiana. After serving in the church for six years, he returned to Arkansas and attended Williams Bible College. After receiving his AA degree, he enrolled in Arkansas Bible College, a ministry of Hot Springs Baptist Temple.
He served on staff at Hot Springs Baptist Academy as teacher and senior high basketball coach for five years. Sylvia worked in the school as a teacher. They moved to Florida in 1989 with Pastor Riggs' family to help start Starlight Baptist Church. Larry serves as the bus director, children's minister, and office manager.
Mike Carringer
Assistant Pastor and Youth Director
Click Here to Email Mike Carringer
Mike Carringer is an assistant pastor, youth Sunday school teacher and the youth director. Mike has attended Starlight since 1989. He was active in the church's youth group and played varsity basketball for his Christian school. Mike made a profession of faith at the age of eleven and surrendered to preach at age fourteen. While at church camp in the summer of 1993 he received the assurance of his salvation, he was baptized and reaffirmed his call to preach at Starlight. Mike became the youth director in 1996 and an assistant pastor in 1999. He has a BA in Pastoral Studies from Patriot University. He also is the moderator of the Soldiers of the Cross Teen Rallies and hosts the Starlight Youth Conference which teens from across the state attend.
Mike has been married to Christy Dilda since 2002. She is from Raleigh, North Carolina where she was raised in a Christian home and church. They met while attending a retreat in the mountains of North Carolina. She also helps in many facets of the ministry, mainly children's and youth ministries. They have two children, Hannah and Stephen.